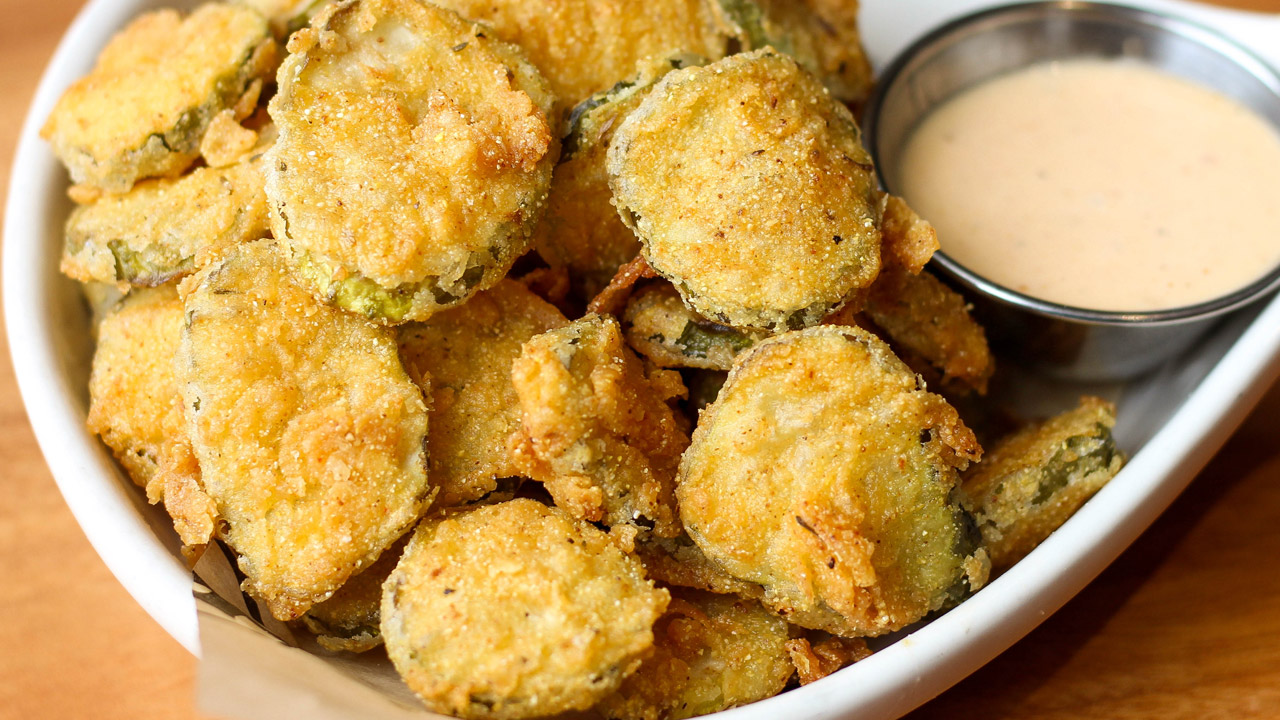 Posted September 30, 2021
As if pickles needed to be made any more delicious, we decided to give it a shot anyway. All of that crunchy, salty goodness you love has been lightly breaded and fried to create the perfect (yes, perfect) appetizer.
Served with a delicious rosette sauce, our fried pickle chips will leave the whole table wanting more. They're the perfect gameday snack and complement all of your favorite RAM beers!
magic pickle button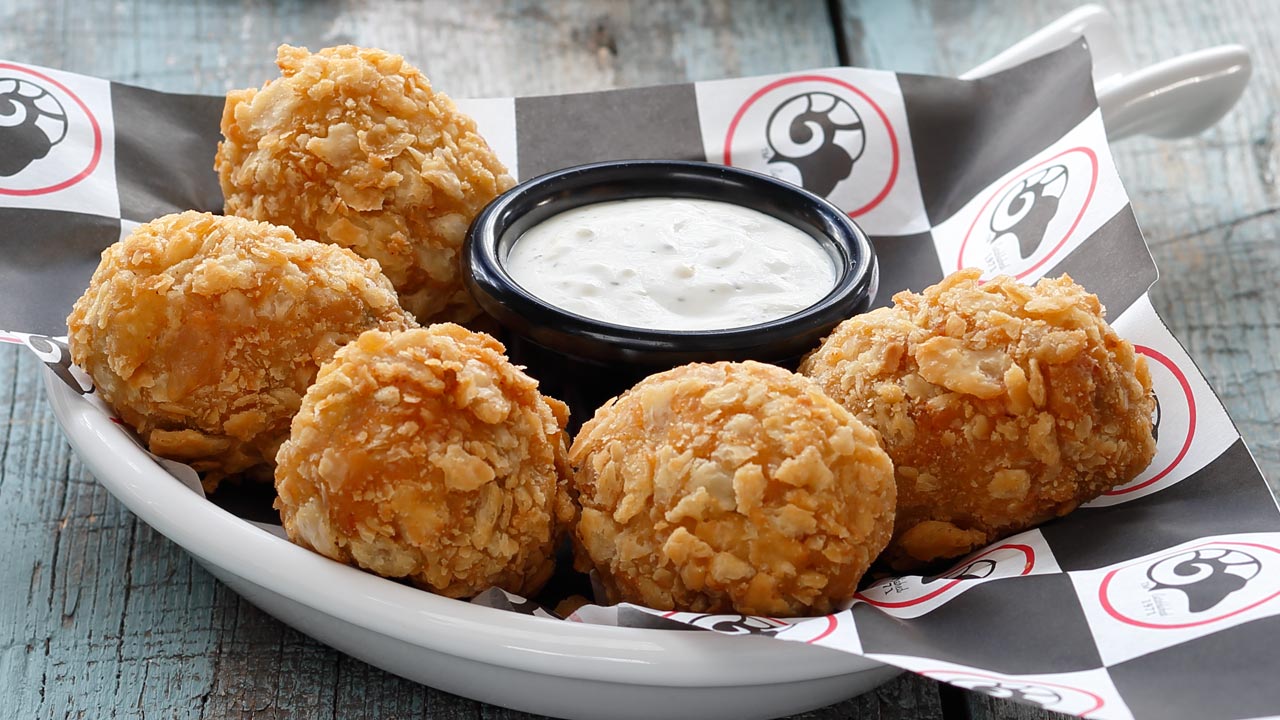 Posted September 29, 2021
You read that right. America's favorite appetizer has made its triumphant return to The RAM! Never tried one? Thank of a jalapeño popper, but…enhanced! Rolled in Saltine crackers and packing the perfect amount of spice. Trust us, everyone at the table is going to love these.
Chicken, diced jalapenos, pepper jack, cream cheese, secret sauce, and seasonings, rolled in saltine crackers, cooked golden, served with ranch dressing. Order them for the table today!
armadillo eggs found here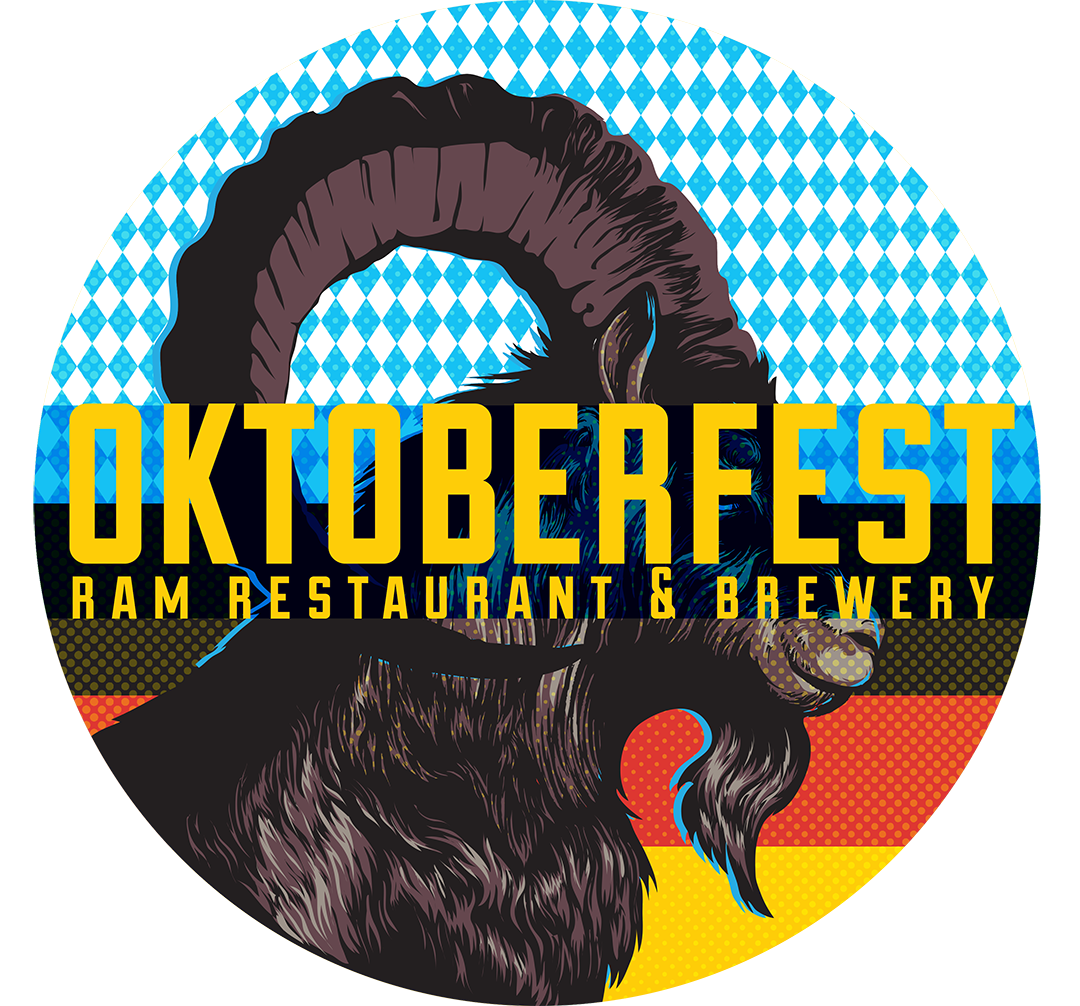 Posted September 21, 2021
It's that time of year again… Time for beers, bratwurst, lederhosen, and beers. It's officially time for Oktoberfest!
This year, we're celebrating with a feature menu full of German-inspired items, and of course, Oktoberfest Bier.
Also, we've just gotta sneak in one little surprise… Armadillo Eggs are back! That's right, everyone's favorite appetizer has made its triumphant return to the menu.
Oktoberfest Bier
Our Bavarian-inspired copper-hued lager, clean & malty with notes of pretzel crust and a crisp hop finish. ABV – 5.8% IBUs – 26.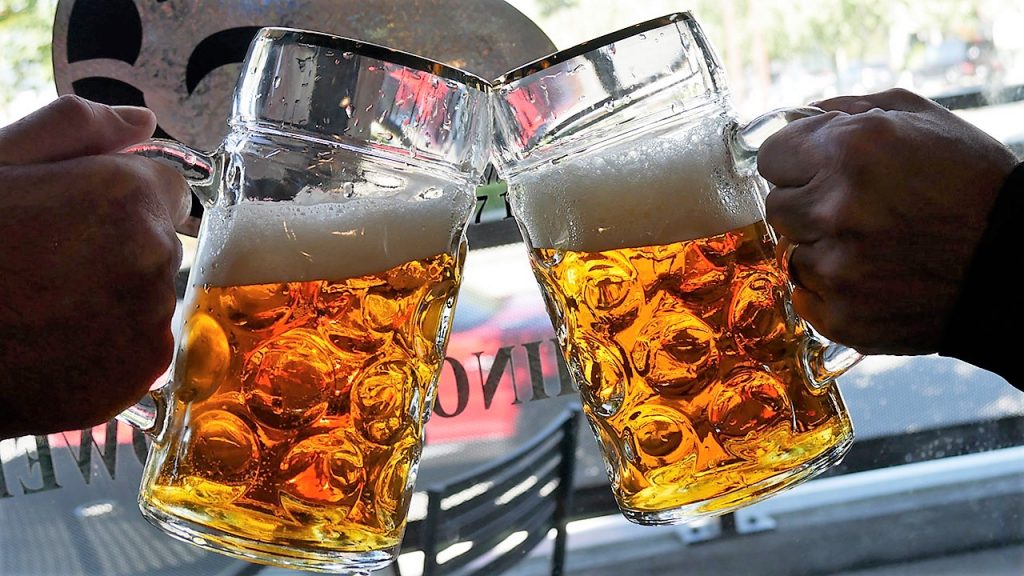 Bavarian Burger
Grilled *beef patty topped with corned beef, creamy havarti, thousand island, garlic mayo, stone-ground mustard sauerkraut, grilled pretzel bun.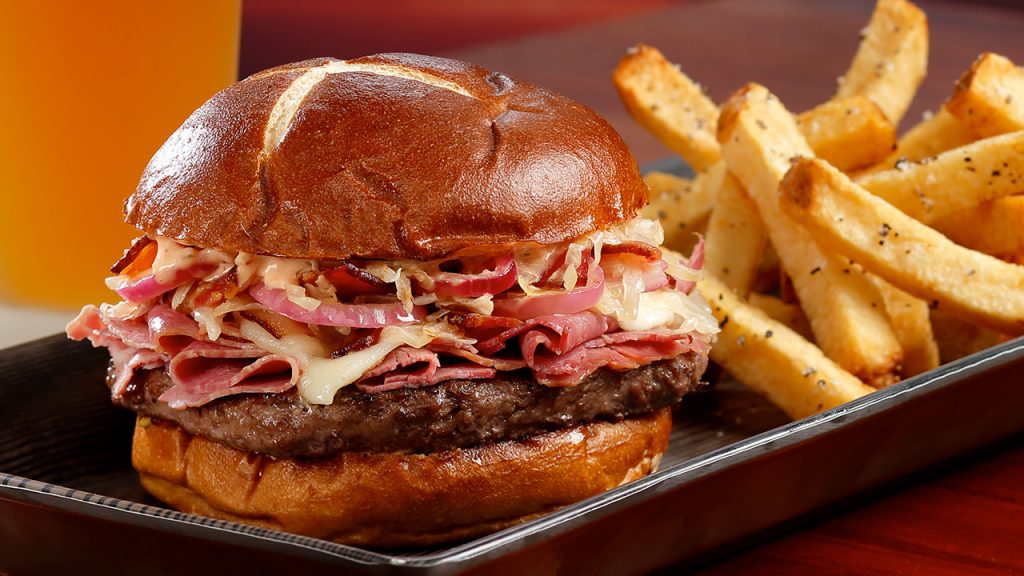 Big Red's Brat Melt
1/4lb. Brat simmered in Big Red's IPA and split, on a grilled pretzel bun, stone-ground mustard sauerkraut, creamy havarti, smoked bacon, roasted garlic mayo.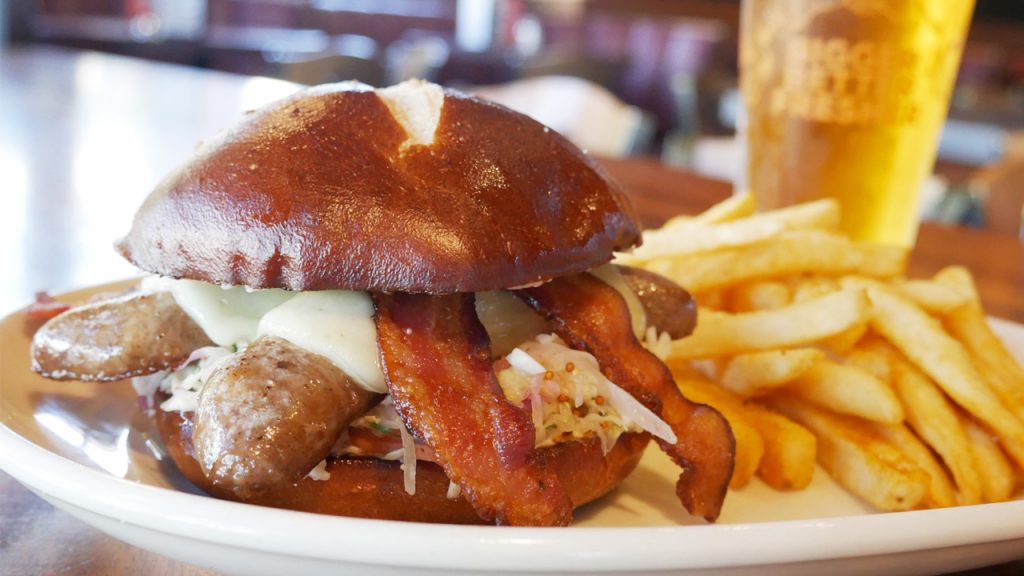 Armadillo Egg Grilled Cheese
Smashed Armadillo eggs, double pepper jack, double cheddar, smoked Anaheim pepper, smoked bacon, grilled old-fashioned toast.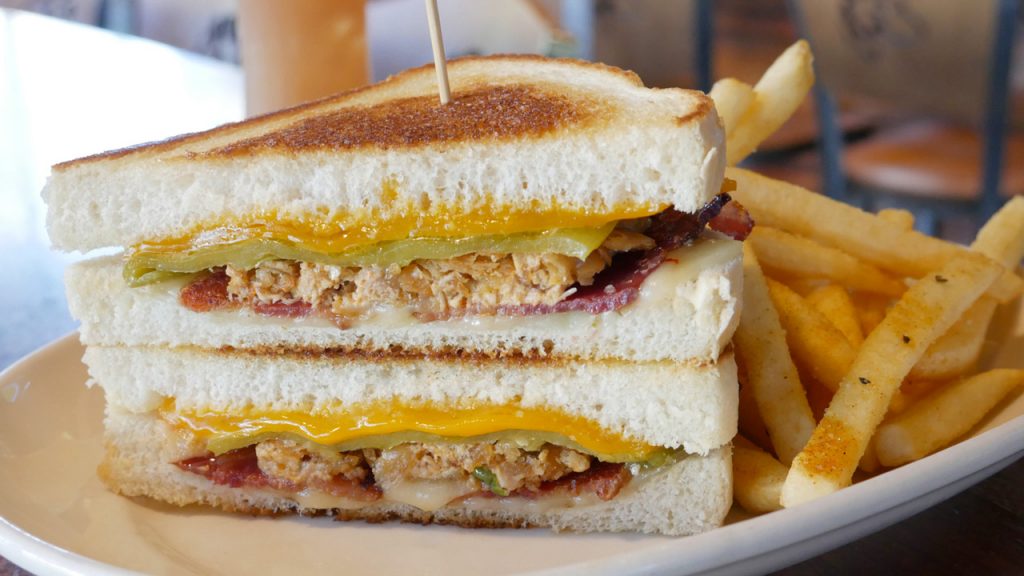 Cheers to Biers
Posted September 13, 2021
With the arrival of fall comes our new fall drinks, Perfect for game days at The Ram! we've got something new for all the cocktail lovers out there, where you're into vodka, gin bourbon, or even margaritas. Also new this fall, we're pouring $5 18 oz. pints of every Ram beer during pro football games. So, join us every week on game day for the best deals on drinks!
Gold Rush
Hood River Easy Rider Bourbon, lemon juice, Big Red's IPA hopped honey syrup. $10.00
Harvest Mule
New Amsterdam Vodka, lime, pineapple juice, ginger beer, Angostura bitters. $9.00
Easy Rider Peach Julip
Hood River Easy Rider Bourbon, Big Red's IPA hopped honey syrup, peach bitters, mint. $10.00
Paloma Shandy
Hornitos Reposado Tequila, grapefruit juice, Big Red's IPA honey syrup, topped with Big Red's IPA. $9.50
Spicy Pineapple Margarita
Created by: Raisha – Issaquah. El Jimador Tequila, Cointreau, lime, fresh jalapeno, pineapple juice $9.50
check out the menu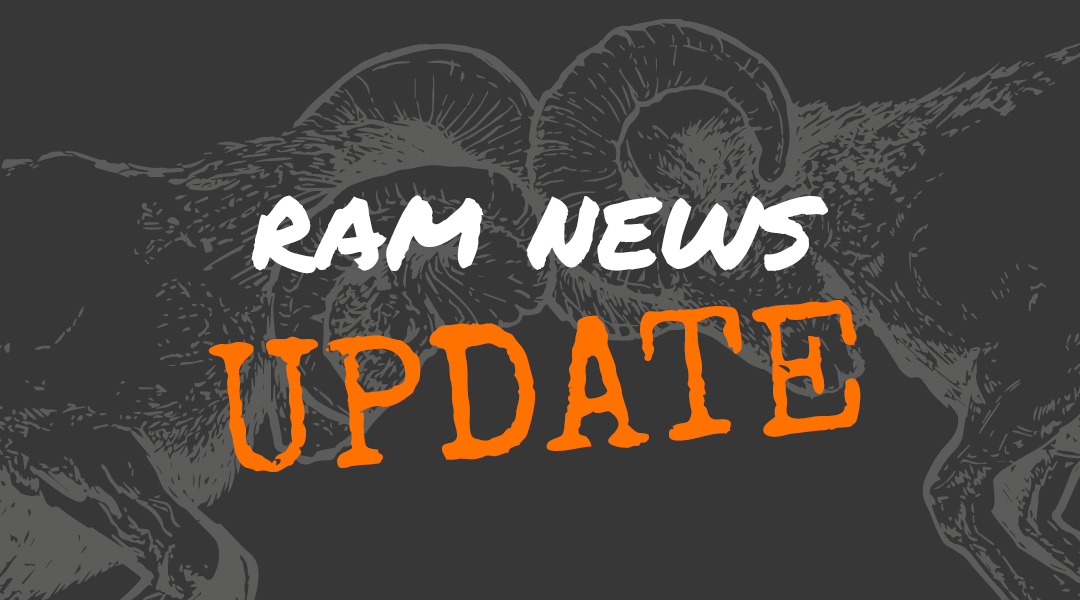 Posted September 8, 2021
Win prizes when you watch football at The RAM! Pro football Pick-a-Winner is back for 2021 at your local RAM.
Fill out a free playsheet every week for your chance to win a weekly $20 gift card, or our $500 season-end grand prize! The overall winner from each RAM location will be entered to win a $500 grand prize at the end of the season. The grand prize will be issued in the form of a RAM gift card. No purchase necessary to play or win.
Family & team members are not eligible for prizes. One entry per person per week, please.
Having your watch party at home? Order food and RAM beer at theram.com!
Join RAM Rewards and earn points for every dollar you spend with us. Join today at theram.com/rewards.
check out our menu & taplist