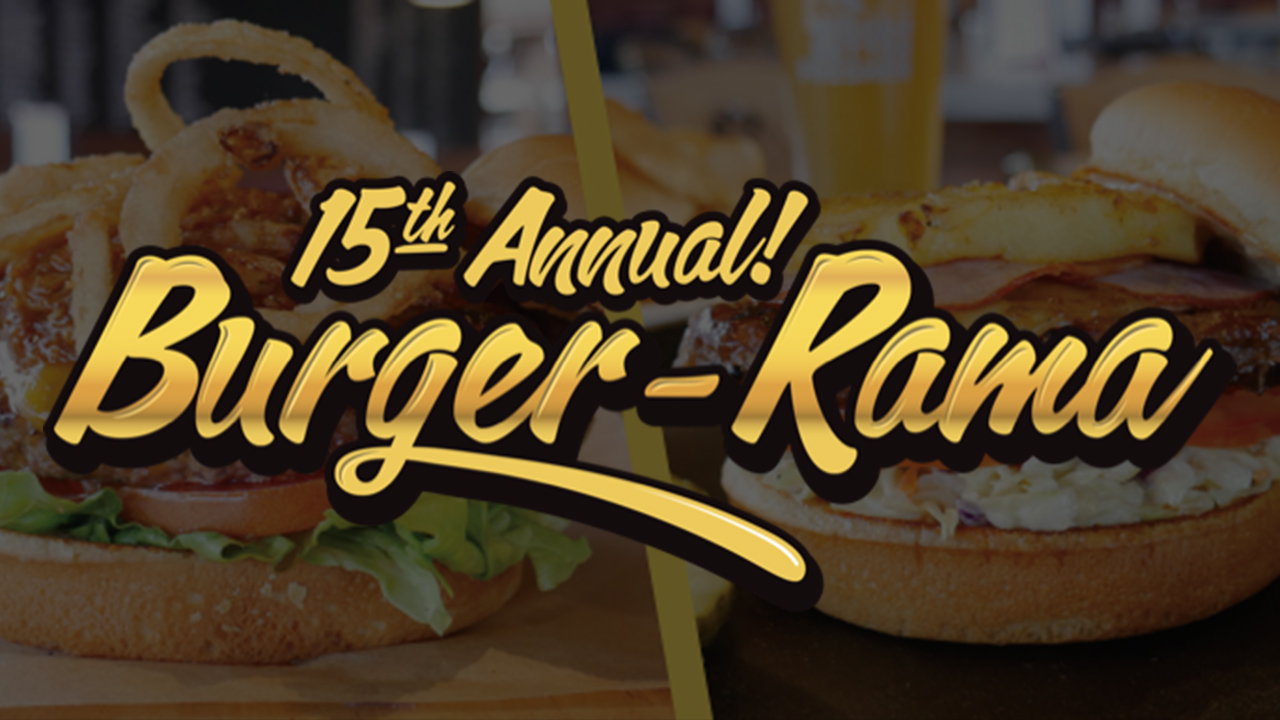 Posted March 7, 2023
Burger-Rama is back for 2023! Everyone's favorite burger celebration has returned with even more ground beef gluttony, appetizers, and cocktails to enjoy. Here's the lineup for 2023:
APPETIZER: Loaded Pizza Fries
Ram fries topped with house-made red sauce, Wisconsin mozzarella, Italian sausage & pepperoni. Finished with grated Parmesan, chopped parsley.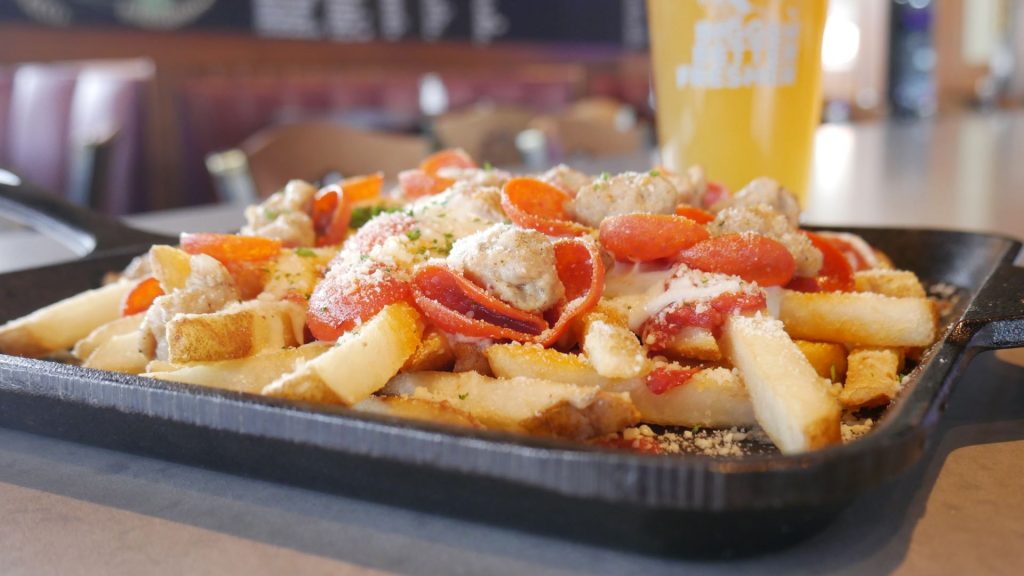 BURGERS
The Hawaiian
Grilled and basted with teriyaki sauce, topped with Canadian bacon, Wisconsin pepper jack cheese, pineapple crown, Hawaiian mayo, Island slaw, sliced tomato.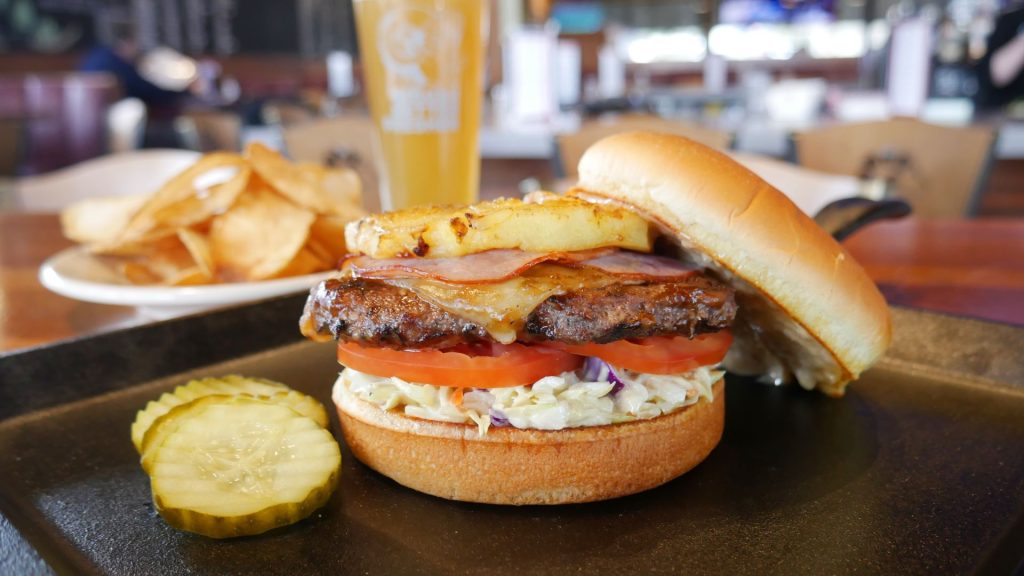 Bam Bam Smash Burger
Smashed Black Angus *beef patty, topped with Wisconsin cheddar cheese, bacon-jalapeno onion jam, garlic mayo, RAM chips.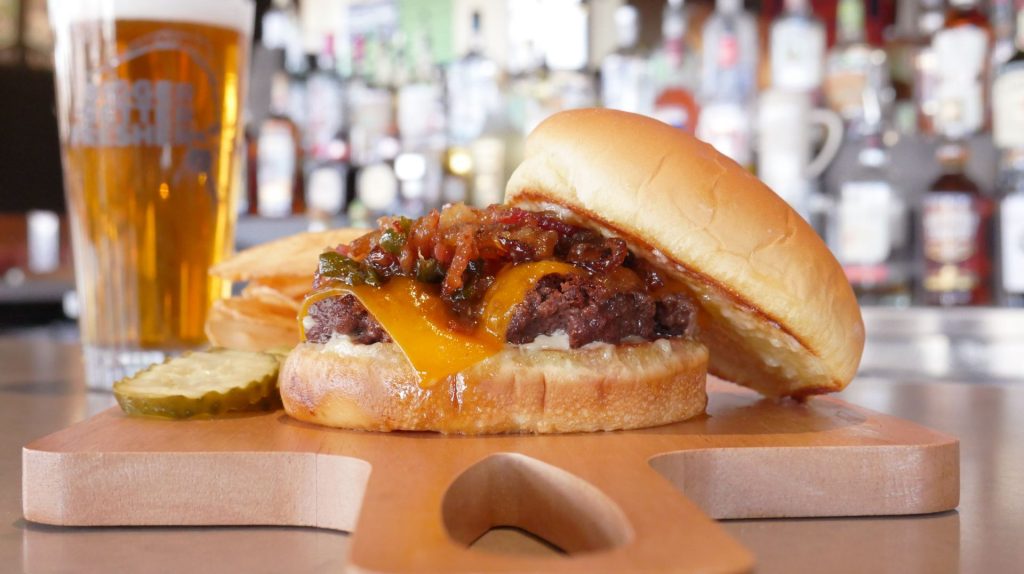 The Humble Bee
Grilled Black Angus *beef patty, caramelized onions, Wisconsin Havarti cheese, honey bacon, Dijon mayo, lettuce.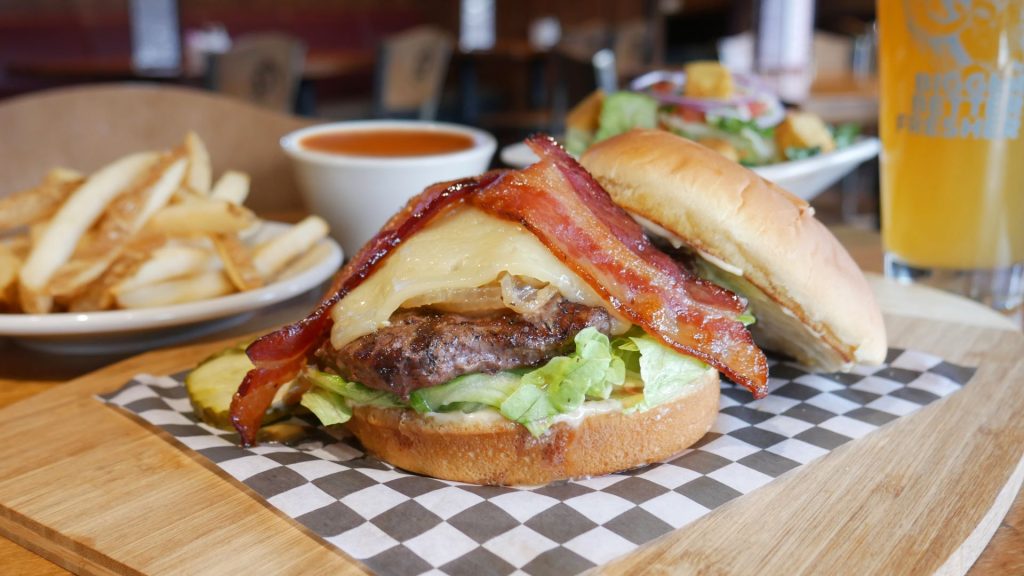 The Cowboy
Grilled Black Angus *beef patty, topped with Wisconsin cheddar cheese, BBQ pork carnitas, crispy onions, lettuce & tomato.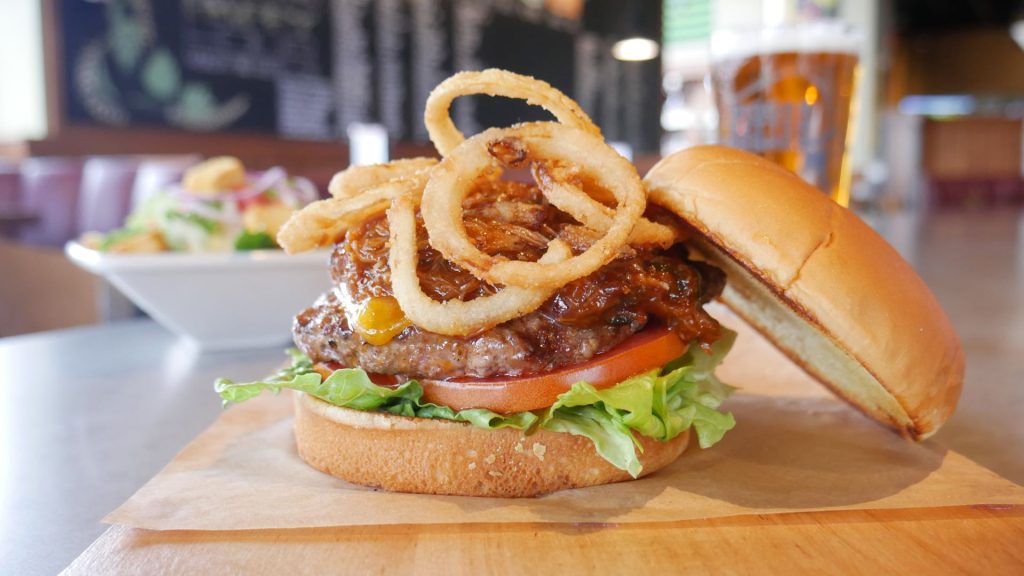 Pizza Burger
Grilled Black Angus *beef patty, topped with Canadian bacon, pepperoni & Italian sausage, Wisconsin mozzarella, house-made red pizza sauce, lettuce & tomato.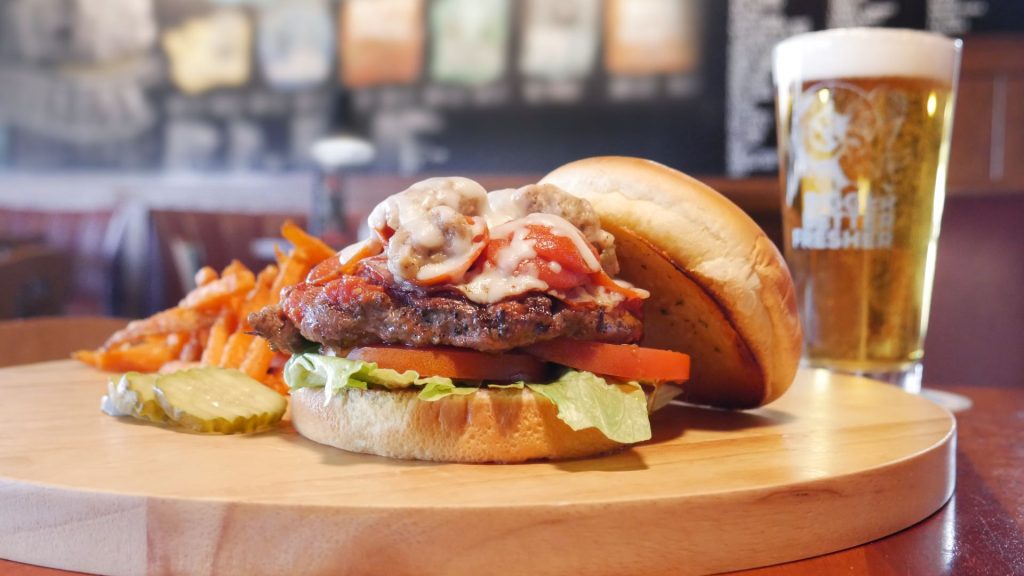 DRINK FEATURES
Peppermint Paddy
Jameson Irish Whiskey, Crème de Cocoa, Crème de Menthe, half n' half.
Irish Old Fashioned
Jameson Irish Whiskey, sugar, Angostura bitters, orange & cherry.
Green Tea Mule
Jameson Irish Whiskey, Peach Schnapps, sour, ginger beer, lime.
Jameson Irish Whiskey Shots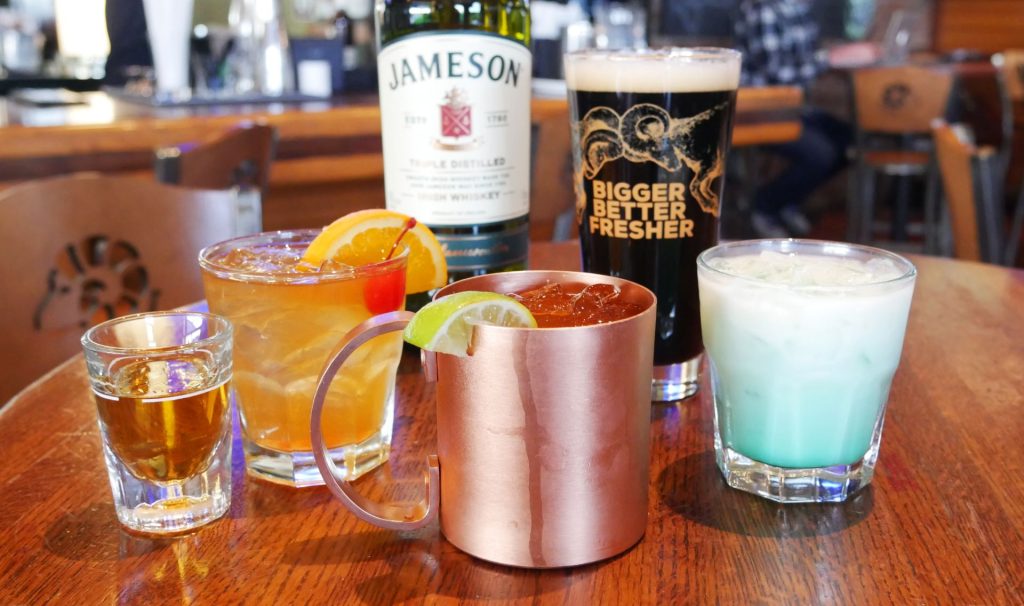 what's on tap?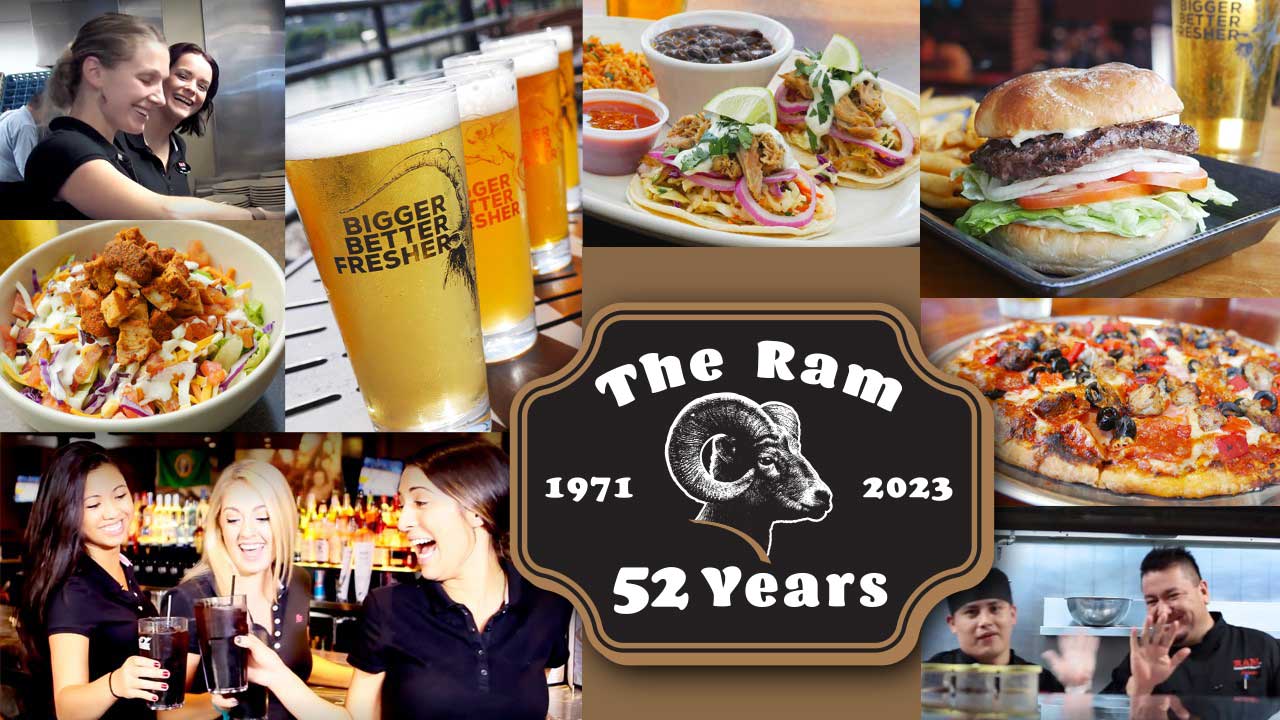 Posted March 2, 2023
Sunday, February 26th marks the 52nd birthday of The Ram. What started as a little tavern in the Villa Plaza shopping center in Lakewood, Washington offering "Cook Your Own Dinner Fare" has evolved and grown into what we have today. In 1971, the Ram offered "Color Television" and "Foosball". The last Thursday of every month between 7 pm – 10 pm, Mug Club beers were 10 cents. Beer Nuts could be had for 15 cents. Monday was "All You Can Eat" Pizza for $1.65. Wines by the glass included "Spanada", "Loganberry", "Apple", "Strawberry", "Wild Mountain", "Pink Chablis" and "Peach". Anyone remember "Cold Duck"?  If you do, you probably never saw it on draft, but that is the way it was served at the Ram for 70 cents. 
My favorite menu item back then was the "Catch All" Sandwich, which consisted of "bountifully prepared Ham, Corned Beef, Roast Beef, pickles, and cheese. Served on a French Roll. Hot or Cold". We brought this sandwich back around 10 years ago for a little nostalgic fun. In case you were wondering about beer, Olympia Light or Dark was sold for 35 cents a glass or $1.75 for a pitcher.
Through the earlier years, those cozy little taverns, or pubs, spread to several western college towns. The late 70s and early 80s brought more full service, bigger menus, and more sports programming. In 1995, we began brewing our own beer, and here we stand today, continuing to innovate great food and beverages served with gracious hospitality. Some things have come full circle, like pizza being back on the menu. So, Happy 52nd Birthday to the Ram Family. What a wonderful journey.
Thank You and Cheers!
-Jeff Iverson, CEO
One final note…
On March 8th, we commence our 15th Annual Burger-Rama. I am finding it hard to believe it has been 15 years of ground beef gluttony. The menu this year features five delectable burger creations in addition to our Loaded Pizza Fries appetizer. See you there!
view our menu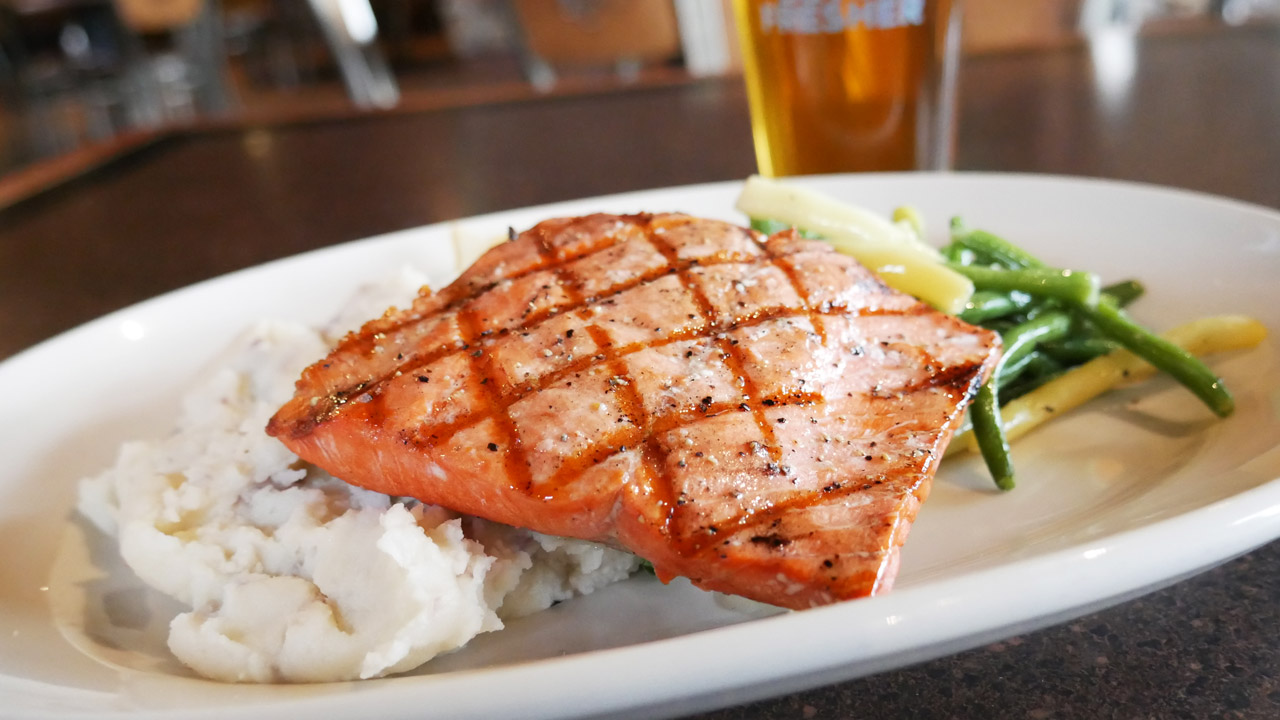 Posted February 7, 2023
Join us February 11-14 for our two-course dinner specials! $25 gets you the beverage of your choice and two delicious courses, and you can finish it off with a dessert for just $5!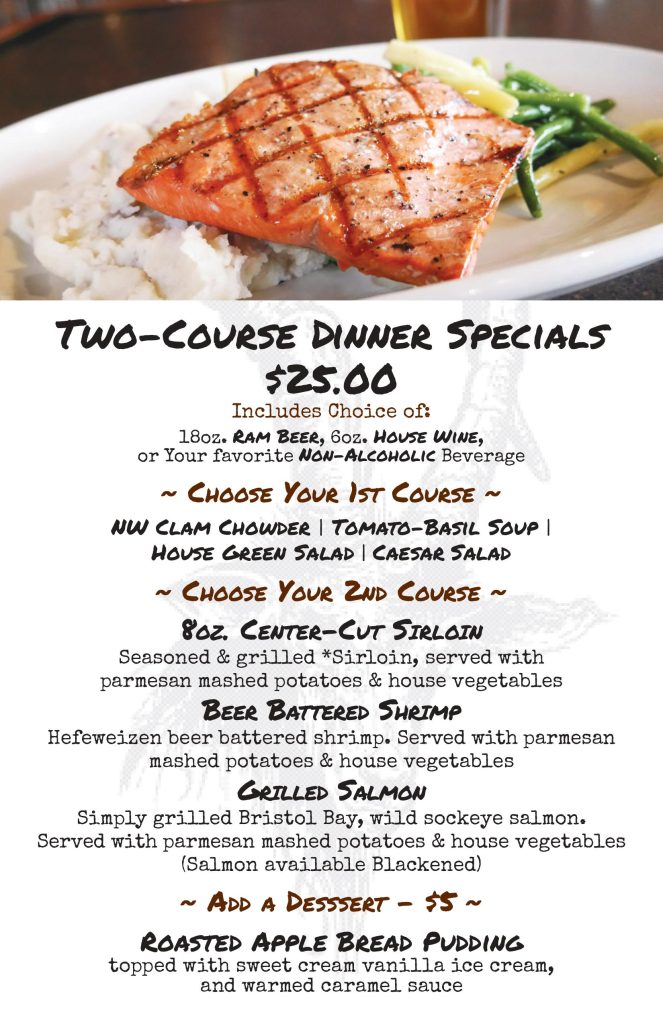 view our menu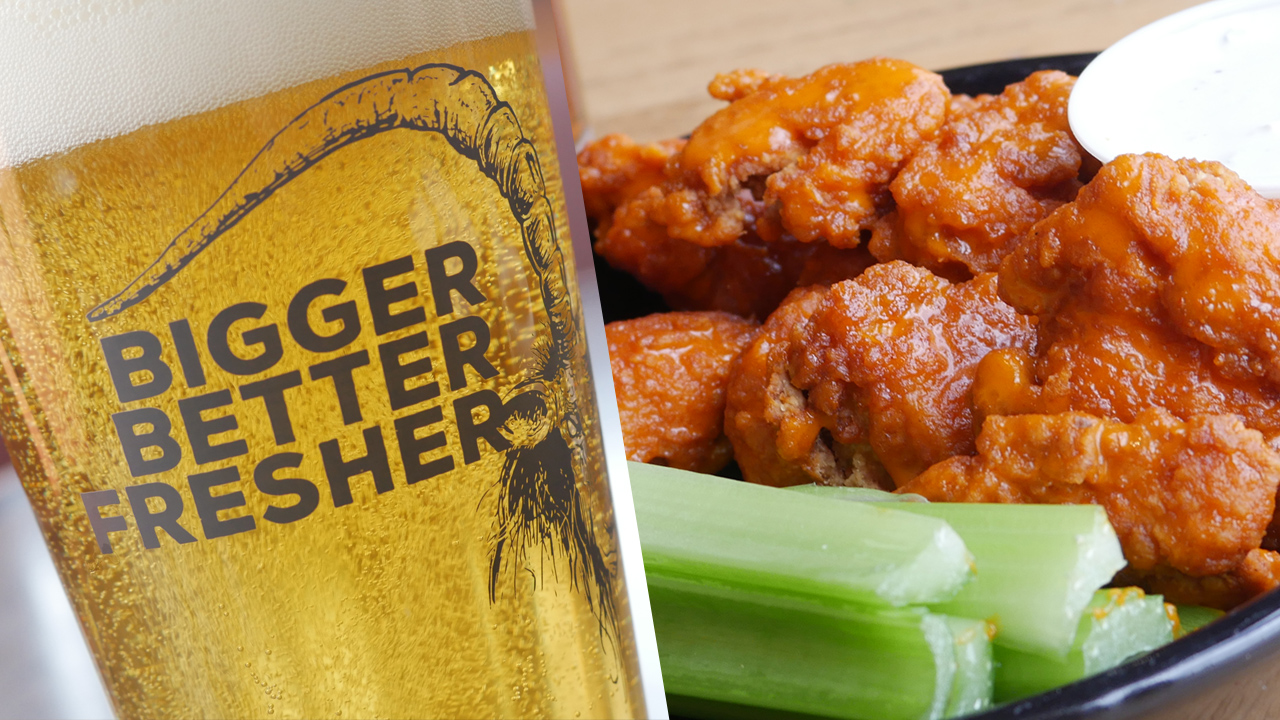 Posted December 7, 2022
Small plates, appetizers, Ram beers, and cocktails at $4, $5, and $6! Stop by and try some of our new creations, as well as your longtime favorites. Join us for Happy Hour all day Monday, and Tuesday-Friday 3-6pm & 9pm-close.
$4
Hog Heaven Pork Sandwich
Pork carnitas, BBQ sauce, pickled red onions, zesty slaw, grilled bun.
Add fries or Ram chips $4
1/4 lb. Mulligan Burger
Grilled 1/4 lb *beef patty, lettuce, tomato, onion, Ram burger sauce, grilled bun.
Add fries or Ram chips $4, bacon $3, cheese $1, additional 1/4lb patty $3
House Caesar Salad
Romaine, parmesan, garlic croutons, caesar dressing.
Add grilled or blackened chicken $5
Small Plate Mozzarella Sticks
Served with marinara, shredded parm.
12 oz. Ram beer
$5
Tempura Green Beans
Served with rosette sauce.
Small Plate Boneless Wings
Served with blue cheese or ranch.
Choice of naked, buffalo, Honey-Sriracha, or BBQ.
Small Plate Crispy Cauliflower
Served with blue cheese or ranch.
Choice of: Naked, buffalo, Honey-Sriracha, or BBQ.
Small Plate Crispy Calamari
Served with sweet chile sauce.
18 oz. Ram beer, well drinks, house wine
$6
Personal Size Beer-Crust Pizza
Red sauce, mozzarella.
Meats $2.50: Pepperoni, Canadian bacon, Italian sausage, pork carnitas.
Veggies $2: Mushrooms, roasted pepper, black olives, jalapenos, red onion, pineapple.
Spinach Dip
Spinach, pepper jack, green chiles, jalapeno, roasted corn & black bean relish, chopped cilantro, beer crust flatbread.
Ram Chips
Choice of: Garlic Parmesan with garlic sour cream, BBQ Spiced with garlic sour cream, or Blue Cheese with crumbled blue cheese & blue cheese dressing.
Pork Carnitas Tacos
Chipotle-tarragon slaw, pickled red onion, cilantro crema, cilantro, salsa.
With flour or corn tortillas.
Add guacamole $2, Rice & beans $2, additional taco $3.
Pickle Chips
Served with rosette sauce.
Tito's + mixer, El Jimador Ram Margarita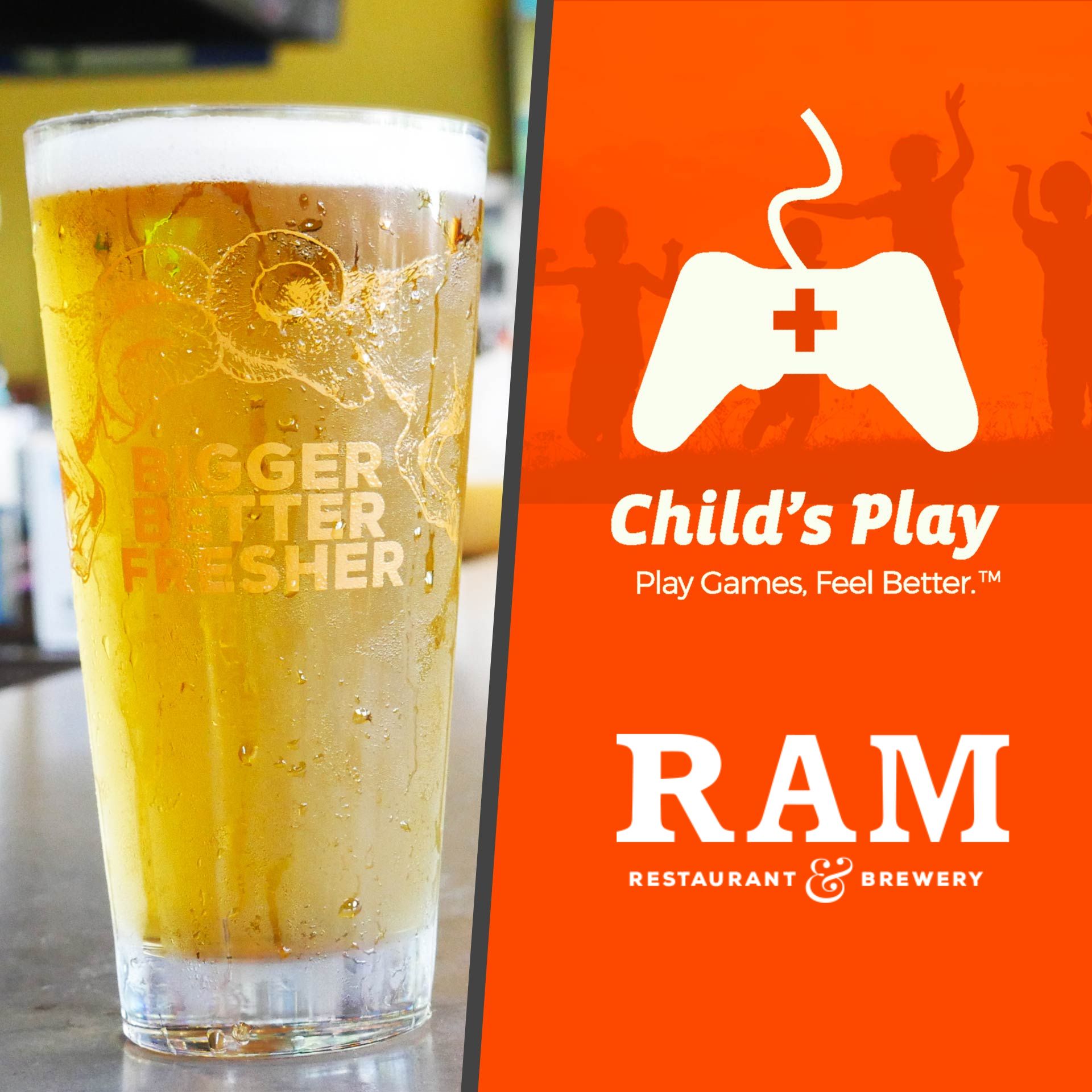 Posted November 23, 2022
From November 25th to December 31st, we're donating $0.50 from every pint of Hometown Blonde to Child's Play. This year, our Friends at Tito's Handmade Vodka are joining in and donating $0.50 from every Tito's cocktail sold (up to $5,000)! Every pint and cocktail sold helps provide games, books, and toys for over 190 children's hospitals across the world. Last year, you helped us raise $10,000!
Together, let's raise a glass for a good cause and help provide for children and teens this holiday season. To learn more about our friends at Child's Play and their mission, click the link below!
more about child's play